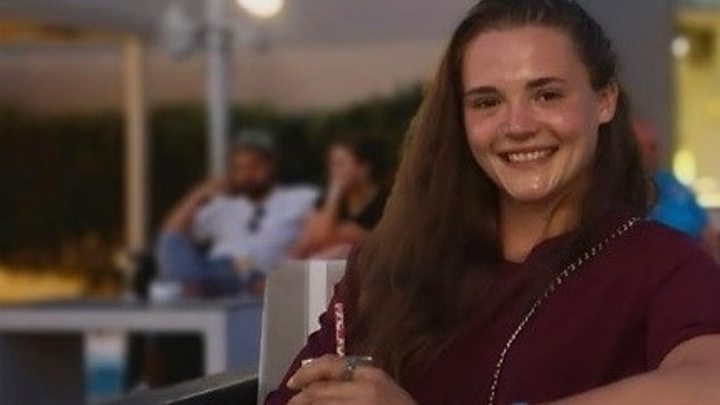 A woman who was stabbed to death in the London Bridge attack was a "fearless warrior" determined to do good, friends have said.
Saskia Jones, 23, from Stratford-upon-Avon, was killed by convicted terrorist Usman Khan, 28, as she attended a prisoner rehabilitation event .
Her friend Sebastian Lefeuvre described the Cambridge University graduate's death as senseless.
"She was just the most perfect soul and she's gone," he said.
Ms Jones and Jack Merritt, 25, who was also killed at the Cambridge University organised conference, are being remembered at a vigil and service in London.
Mr Lefeuvre, who had been friends with Ms Jones since they were teenagers, said he met her at a gym, adding she was as "relentless" with her workouts as she was in other areas of life.
"She had the drive and determination to become something," he said.
"At 23 years old she had accomplished things that people hadn't done in their lifetime."
Ms Jones studied criminology at Anglia Ruskin University before doing a masters at Cambridge University, where she carried out voluntary work with inmates at HMP Grendon.
She was applying to become a police officer.
Colleen Moore, a criminology lecturer at Anglia Ruskin who became her friend, described her as a "lovely woman" who was "fearless and a warrior".
"She stood out above everyone – partly because she wanted to, she wasn't afraid to say anything," she said.
"There was no fooling her. She was really funny, she had a wicked sense of humour, she was cheeky and she was mischievous."
Mr Lefeuvre said the death of his friend "doesn't make sense".
"I just feel really, really sad. Usman Khan got a second chance and Saskia didn't and that's it," he said.
"She hadn't even entered the real world yet. She was a young women ready to just get out there – and she's dead."
Jake Partridge, another friend from Stratford, said Ms Jones was quiet until you "got to know her".
"She was loud then, she was vibrant," he said.
"She'd have a joke with you and would put you in your place when you were wrong."
He said he was "heartbroken", adding: "It's not fair, this world has changed."
Bloxham School near Banbury, where Ms Jones had attended, said it was "deeply shocked and saddened" by her death.
"Saskia was a much loved member of our community and will be remembered fondly for her generosity, kindness of spirit and commitment to serving others," it said.
Holy Trinity Church in Stratford-upon-Avon held a minute's silence and has opened a book of condolence.
Rev Patrick Taylor said some of Ms Jones' friends had visited the church as well as strangers who felt that "something that often feels a long, long way away.. suddenly has an affect on a local community".
Follow BBC West Midlands on Facebook, on Twitter, and sign up for local news updates direct to your phone.
England head coach Eddie Jones fears some Saracens players could skip the Six Nations campaign to help their club avoid relegation after a 35-point deduction for salary cap breaches.
The deduction leaves the Premiership champions bottom of the table. They have also been fined £5.36m.
Sarries supplied six of the team who started for England in the 32-12 defeat by South Africa in the World Cup final.
"It could have a significant impact," Jones told BBC Sport.
"It's something we need to weigh up and look at very carefully."
Saracens have decided not to appeal against the punishments imposed upon them for infringements over the past three seasons so go from third place to bottom of the Premiership on -22 points, 26 behind second-bottom Leicester.
Jones selected six of their players for the final in Yokohama, led by captain Owen Farrell. The others were Mako and Billy Vunipola, hooker Jamie George, second row Maro Itoje and full-back Elliott Daly, who is yet to play for the club after his summer move from Wasps.
"Obviously there may be some dislocation between Saracens players and the rest of the clubs," said Jones, who was Saracens' director of rugby in 2008-09. "That's a reality.
"So we may have to work to mend those relationships a bit harder, and there might be some Saracens players who feel like they've got to play for their club instead of their country, to make sure they don't go down. So we'll weigh all those up as they come about."
Former Sarries and England scrum-half Kyran Bracken believed Jones was correct to be concerned.
"Country comes first traditionally, but the players will feel a sense of loyalty to the club having won so much with them," the 47-year-old told the BBC News Channel.
"The thought of potentially leaving comrades in the lurch and leaving young guys to it… some will decide to concentrate on Saracens."
'I didn't realise how strong the class structure was'
Ensuring any issues between Saracens players and the rest of the squad do not do any damage is the latest challenge Jones must face as England coach.
Earlier he told BBC Radio 5 Live that the biggest hurdle he faced when he first took the job in January 2016 was getting to grips with the cultural differences within the group.
"I didn't realise the how strong the class structure was in England, and how that affects the relationships between the players," the Australian said.
"When you look at the England team from the outside it looks like a very homogeneous group but in fact it's very diverse and there probably hasn't been enough understanding of the diversity of the group.
"We spent a lot of time in our World Cup prep making sure we understood the value of diversity."
A report this year revealed that 37% of male British rugby union internationals came from fee-paying schools.
Jones, who hails from a working class suburb of Sydney, was asked whether the difference came down to the stereotypical rugby divide of "posh public schoolboys and state school kids".
"Something like that, yeah," he said.
"If you've got a group of people in here now and you've got five Japanese people, five Australians and five South Africans, they'll tend to congregate together and that's OK if they're not playing as a team.
"But if those 15 are playing as a team then you want that to be completely mixed, and they're the subtle things I was reasonably slow to pick up on."